Yesterday was Good Friday... I barely even realized it was Friday at any point of the day yesterday. I think it's because things are so different this year - not only on a personal level but also in the world itself. People are starting to realize that COVID 19 is nowhere near over and that it's about to completely change the world as we know it. Whether this is good or bad, we each have our own personal opinions and will just have to wait and see what really happens.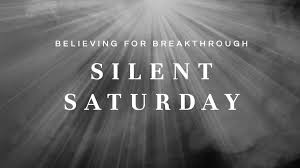 Today is Silent Saturday... The day before Easter, when Christ was raised from the dead. It's still early in the day for me. I've been up pondering life and the Lord spoke to me clearly this morning. Last night I hit a real rock bottom - something I rarely do and haven't done in well over a year now. I honestly shouldn't be surprised that it happened as this is the first time I've found a therapist who's good and who's walking me properly through the trauma I've endured throughout my life instead of just trying to push me to move on. However, this is also leading me to realize that I'm going to have to adapt to a new norm.
There's no denying that I have a very long journey ahead of me but the words Christ spoke to me this morning and the "ah ha" moments He's been giving me lately have been a true blessing. This morning it was interesting to hear Him speak a message about full surrender to me. With it being Easter, He too had to fully surrender to His Father's will just like He's now asking me to fully surrender to His will. I keep being reminded that He's a gentleman and won't push me in the way that other men in my life have always pushed me. Instead, He's choosing a much gentler and milder approach saying...
This is a new day. You may be filling weak and vulnerable, empty inside, but now is not the time to quit. Now is the time to give yourself fully to me, the one who loves you dearly enough to go to the cross and ensure that you are saved. So stand up, come back home to a life that's more fulfilling than you've ever known. No one said life would be easy but they did say life wouldn't be worth living without Me. Take My hand, I'll teach you. I'll show you the way because I love you.
Tomorrow is Easter. It's the day Christ was raised from the dead. It's a time of new beginnings and I've been offered mine. He's offering the same to you too. If you don't know Him, take a moment to ask Him into your heart and get to know Him. I promise you, you won't regret it. And while tomorrow will be different for all of us this year, it's my prayer that the world will find some sliver of sanity again soon and that you have a